The Pandora Effect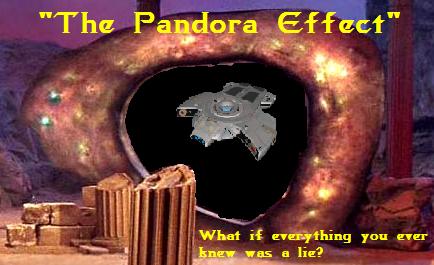 Rear Admiral Iluvar and the crew of the USS Tethys receive an urgent distress call from the scientific outpost on Planet Gateway claiming that they are under attack from an unknown force. Little more than a scientific research post, there is little likelihood that they could stand against such an attack for long. As the Tethys races toward the planet at high warp, they can only hope that they aren't too late.

Subcommander Volaris, spurned by his defeat at the hands of Iluvar and his crew, has discovered the existence of the Guardian of Forever, which he hopes to use to deal a crippling blow to the Federation by altering the past. The instant he enters the Guardian, changes ripple across time and space. Unfortunately, the Guardian of Forever has gone dormant, preventing anyone from following the Subcommander into the past.

Unaware of the changes that were made to history, Captain Iluvar and the crew of the Valiant-class USS Tethys must determine the source of the anomalous readings coming from the planet below. However, their presence in orbit is sure to attract the attention of the Romulans or the Klingons, either of which would be more than eager to take down a "rogue" Federation starship. It's a race against the clock as Iluvar and his crew try to put right what they never knew existed.
Mission Specifics
| | | |
| --- | --- | --- |
| Start Date | | Thursday, October 1st, 2009 @ 12:00am |
| End Date | | Saturday, January 9th, 2010 @ 12:00am |
| Total Posts | | 58 [ View Posts ] |
| Recent Posts | | |